Kelley Briggs, Board Member, DRC Board of Directors.
Kelley Briggs is the Principal and Executive Creative Director of DesignWorks NY, LLC.  She is a specialist in creative brand identity, graphic design and business-to-business marketing and advertising with over 25 years of industry experience that includes such prominent clients as American Express, Pitney Bowes, PepsiCo, ESPN The Magazine, The New York Philharmonic, Citibank, Canon, DuPont, Mobil and Columbia University.DesignWorks has been the recipient of numerous awards for creative excellence and was Working Women Magazine's choice for Entrepreneurial Nominee in 2000 for Overall Excellence.  Kelley was honored in 2008 with a Working Women of Westchester (WOW) Award.
She is a past board member of the Advertising Club of Westchester, and has served on the Advisory Council of the State University of New York at Fredonia School of Business. She has mentored Columbia University MBA students and has donated creative resources to non-profit organizations including: WINiT—WomenInTravel, My Sisters' Place and Girls Inc., Westchester.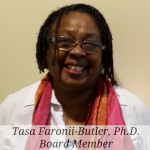 Kishasha Faronii-Butler, Ph.D., Board Member, DRC Board of Directors.
Kishasha Faronii-Butler, Ph.D., a.k.a. Tasa Faronii, is a native New Yorker from Brooklyn.  She received her formal elementary – secondary education through the New York City public school system.  She graduated from the High School of Music & Art (now known as LaGuardia High School for the Performing Arts) with an academic diploma and music diploma concentration in viola and piano.  An undergraduate degree was earned at the CUNY City College where she majored in communication with a minor in education. As a young violist, she was a founding member of the New York Youth Symphony Orchestra and the Cosmopolitan Young People's Orchestra.  She currently performs with the SUNY Orange Community Orchestra, Delaware Valley Choral Society Chamber Ensemble and several other regional string ensembles.
An interest in language, voice, diction and communication fueled an early career on stage, screen and television. Those same interests lead Faronii-Butler into the classroom as a special education teacher and into the study of American Sign Language for the Deaf. She holds a Masters in Health Arts and Sciences from Goddard College in VT and a Doctorate in Educational Leadership & Change from Fielding Graduate University in CA.
As a 30-year resident of Sullivan County, former business owner and community activist, Faronii-Butler began training as a mediator through NYS Sullivan County DRC.  She is trained in Civil Court mediation, Custody/visitation disputes, Parent/Youth mediation and Special Education mediation. In 2015 Faronii-Butler joined the board of Orange, Ulster, Putnam and Sullivan Counties Dispute Resolution Center.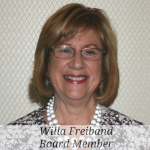 Willa Freiband, Board Member, DRC Board of Directors.
Willa Freiband is an award-winning Senior Public Policy/Public Relations Specialist. She is a cofounder of FYI consultants which offers services in communications, media and strategic planning. Her experience in legislative and electoral campaigns has been instrumental in her work with DRC's Collaborative Governing pilot project where she trained as a coach.
Ms. Freiband is past president of Orange County Democratic Women; serves on the New York State Democratic Committee; is on the YWCA Orange County Board of Directors; is a member of the Woodbury Parks Commission; and is a 2016 recipient of the Women of Achievement award.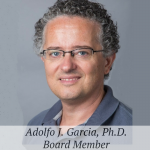 Adolfo J. Garcia, Ph.D., Board Member, DRC Board of Directors.
Adolfo J. Garcia, Ph.D., is a mediator and professor at SUNY New Paltz and has been teaching communication and conflict management classes for many years. In his previous academic job in Wisconsin he started a conflict resolution major and mentored interns that worked at the local DRC. Adolfo's primary goal is to help establish closer ties between Ulster County residents and SUNY New Paltz.
Woodbury Parks Commission; and is a 2016 recipient of the Women of Achievement award.

Greg Gilman, Board Member, DRC Board of Directors.
Greg Gilman is a member of the Board of Directors for First Federal Savings of Middletown. He owned and operated Weber's Store in Middletown for over 25 years. Greg is also a volunteer mediator with DRC and has done extensive volunteer work with the Mental Health Association of Orange County and Hospice of Orange & Sullivan Counties.
Greg served as a past board member of the Minisink Valley Central School District.
Greg is a graduate of Middlebury College and is married with three adult children.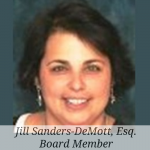 Jill Sanders-DeMott, Esq., Board Member, DRC Board of Directors.
Jill Sanders-DeMott, Esq. has an undergraduate degree in Psychology from Bard College and graduated from Northwestern School of Law in May, 1983. She was admitted to practice law in New York State in March, 1984. Jill has trained extensively in mediation with John Haynes among others and has also trained in Collaborative Law. Since 1985, Jill has been in practice as a Divorce Mediator in Westchester, Putnam and Orange Counties. Jill has co-mediated with Alan Frankel since 1992 with offices in both Mt. Kisco, New York and Mahopac, New York. In addition to her private practice, for the last 23 years, Jill has provided Divorce Mediation services for the Dispute Resolution Center of Orange, Putnam, Sullivan and Ulster Counties since 1991. Jill has trained mediators both in the court system and private practice mediators. Jill is an accredited member and Past President of the New York State Council on Divorce Mediation (NYSCDM) and a NYSDRA Certified Mediator.
Katherine Smelter, Ed.D., Board Member, DRC Board of Directors.
Katherine Smelter, Ed.D., is a Psychologist and Partner at Axis 1:  An Assessment Group.  She is also an Adjunct Professor at Long Island University's Rockland County Campus and Mount Saint Mary College in Newburgh.  Katherine has been a dedicated Volunteer Mediator with DRC for over 3 years.Katherine has served as a past Board Member and Officer on Putnam County's Community Service Board and was a past Committee Member on Putnam County's Developmental Disabilities Committee and Alcohol & Substance Abuse Committee.  She was also involved with the American School Counselor Association as an Editor.  She has been honored as an Outstanding Professional in Human Services and has appeared in Marquis Who's Who.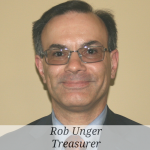 Rob Unger, Treasurer, DRC Board of Directors.
Rob Unger, CPA, CFE (Certified Fraud Examiner) is a partner at Judelson, Giordano & Siegel, CPA, PC and has been with the firm since 1996.  He is a member of the New York Society of Certified Public Accountants, the American Institute of Certified Public Accountants and the Association of Certified Fraud Examiners. Rob provides services to clients ranging from small entrepreneurial start-ups to large publicly traded corporations which include tax planning and preparation, business advisory services, accounting and auditing.  Rob oversees audits for commercial entities, not-for-profit organizations and large employee benefit plans.  As the firm's partner in charge of forensic accounting, Rob participates in fraud examinations and litigation support services. Rob is a Cum Laude graduate of Marywood University and served as a past board member of the Hudson Valley Chapter of the New York State Society of Certified Public Accountants.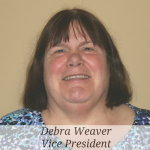 Debra Weaver, Vice President, DRC Board of Directors.
Debra Weaver is Vice President and Branch Manager of Orange County Trust Company's Trust Way Branch in Middletown, New York and has been with the Company since 1987. Debra teaches the Company's 4th grade program, "Teach Children to Save," in local schools. She is on the Company's team for the Goshen Relay for Life, an annual fundraising event for the American Cancer Society. She served for eight years as Chairperson for the event. Debra also is the Company Team Leader for the American Heart Association Heart Walk. Debra serves on the Advisory Board for Jewish Family Services. Debra has been a Celebrity Server for the Town of Wallkill Boys and Girls Club Celebrity Dinner for five years. Debra is a graduate of Mount Saint Mary College.