Kelley Briggs, Board Member, DRC Board of Directors.
Kelley Briggs is the Principal and Executive Creative Director of DesignWorks NY, LLC.  She is a specialist in creative brand identity, graphic design and business-to-business marketing and advertising with over 25 years of industry experience that includes such prominent clients as American Express, Pitney Bowes, PepsiCo, ESPN The Magazine, The New York Philharmonic, Citibank, Canon, DuPont, Mobil and Columbia University.DesignWorks has been the recipient of numerous awards for creative excellence and was Working Women Magazine's choice for Entrepreneurial Nominee in 2000 for Overall Excellence.  Kelley was honored in 2008 with a Working Women of Westchester (WOW) Award.
She is a past board member of the Advertising Club of Westchester, and has served on the Advisory Council of the State University of New York at Fredonia School of Business. She has mentored Columbia University MBA students and has donated creative resources to non-profit organizations including: WINiT—WomenInTravel, My Sisters' Place and Girls Inc., Westchester.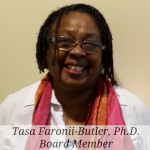 Kishasha Faronii-Butler, Ph.D., Board Member, DRC Board of Directors.
Kishasha Faronii-Butler, Ph.D., a.k.a. Tasa Faronii, is a native New Yorker from Brooklyn.  She received her formal elementary – secondary education through the New York City public school system.  She graduated from the High School of Music & Art (now known as LaGuardia High School for the Performing Arts) with an academic diploma and music diploma concentration in viola and piano.  An undergraduate degree was earned at the CUNY City College where she majored in communication with a minor in education. As a young violist, she was a founding member of the New York Youth Symphony Orchestra and the Cosmopolitan Young People's Orchestra.  She currently performs with the SUNY Orange Community Orchestra, Delaware Valley Choral Society Chamber Ensemble and several other regional string ensembles.
An interest in language, voice, diction and communication fueled an early career on stage, screen and television. Those same interests lead Faronii-Butler into the classroom as a special education teacher and into the study of American Sign Language for the Deaf. She holds a Masters in Health Arts and Sciences from Goddard College in VT and a Doctorate in Educational Leadership & Change from Fielding Graduate University in CA.
As a 30-year resident of Sullivan County, former business owner and community activist, Faronii-Butler began training as a mediator through NYS Sullivan County DRC.  She is trained in Civil Court mediation, Custody/visitation disputes, Parent/Youth mediation and Special Education mediation. In 2015 Faronii-Butler joined the board of Orange, Ulster, Putnam and Sullivan Counties Dispute Resolution Center.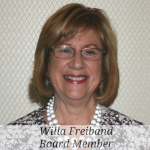 Willa Freiband, Board Member, DRC Board of Directors.
Willa Freiband is an award-winning Senior Public Policy/Public Relations Specialist. She is a cofounder of FYI consultants which offers services in communications, media and strategic planning. Her experience in legislative and electoral campaigns has been instrumental in her work with DRC's Collaborative Governing pilot project where she trained as a coach.
Ms. Freiband is past president of Orange County Democratic Women; serves on the New York State Democratic Committee; is on the YWCA Orange County Board of Directors; is a member of the Woodbury Parks Commission; and is a 2016 recipient of the Women of Achievement award.
 Ann Hall-Krebs, Board Member, DRC Board of Directors.
Ann Hall-Krebs is a recently retired certified school administrator. Originally from Binghamton, NY, Ann worked as a guidance counselor and administrator for Binghamton City School District, and as Director of Student Services and Pupil Personnel Services at the Middletown and Newburgh School Districts. A graduate of Binghamton University and Oneonta State, Ann has extensive experience with counseling services, student support programming and curriculum development.  Ann believes that, with well-developed curriculum, targeted programming and positive support through The Dispute Resolution Center, parents and children can find success in their relationships, better connection within their community, and positive growth in their lives.