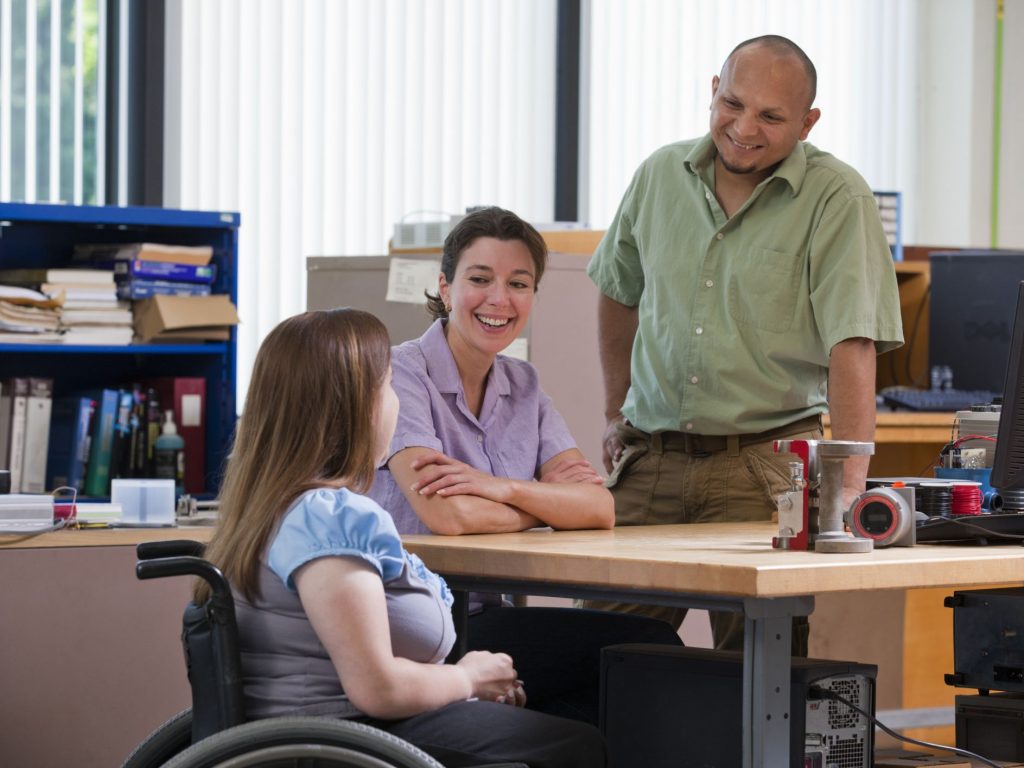 ADR CONNECTS is an initiative to raise awareness of our dialogue and dispute resolution services by connecting the intellectual and developmental disability community to inclusive Alternative Dialogue and Dispute Resolution services that preserve human dignity and rights in challenging conversations, conflicts, situations and relationships. This program is available to all residents throughout all 62 counties of New York state.
Funded by New York State Developmental Disability Planning Council grant, this project seeks to reach people that have intellectual or developmental differences, their families, and service providers.
---
Who We Are
ADR CONNECTS is an initiative to raise awareness of the New York State Community Dispute Resolution Centers (CDRCs) services provided at low or no cost. We promote CDRC services for people that identify as having intellectual or developmental differences, their families and service providers.
Professionally trained staff and volunteers of the CDRCs provide effective mediation, conflict coaching and restorative practices that:
help people resolve disagreements
discuss and decide next steps
have a difficult conversation in a safe space
CDRC services help people respond to issues related to or involving:
Family Matters
Neighborhood & Community
Education & Employment
Legal & Court Matters
Approximately 85% of CDRC mediations reach agreement and more than 90% of people report satisfaction with their experience using CDRC services.
---
What We Do
Everyone has conflict or disagreement at some point in their life. When this happens, CDRC effectively help people work through situations in ways that reduce stress, resolve differences and repair relationships.



In Mediation, two or more parties can address disagreements, work through differences and reach agreement on how to move forward.
In Conflict Coaching, individuals can explore a difficult situation, its impact, their options and their responses.
Restorative Practices help people build and repair relationships, share interests, and restore safety.
---
Let Us Help You
Our inclusive services meet the unique needs of our local community members. CDRC staff are happy to discuss any modifications or accommodations people may need in order to fully participate in our services.
CDRC alternative dialogue and dispute resolution services, address situations and relationships between
Family members, caregivers
Service providers, parents and schools, employees and employers
Neighbors, community entities
CDRCs offer specialized mediation services to manage and resolve issues related to:
Early Intervention
Special Education
ACCES-VR and other vocational services
Our core values of Self-Determination, Neutrality, Confidentiality, Safety, and Quality support human dignity and rights.
---
What People Say About CDRC Services:
"I was able to talk about what was important to me."
"I had control of the outcome"
"We did not have to go to court."
"The mediator helped us work through the tough parts."
"The staff were friendly and helpful."
---
We serve Orange, Putnam, Sullivan, and Ulster Counties.
To participate in our project or to learn more please call Jolynn at 845-372-8771 x5001, or email mediation@drcservices.org.
---
Click here to visit the New York State ADR Connects website.
---