BECOME A PROFESSIONAL MEDIATOR!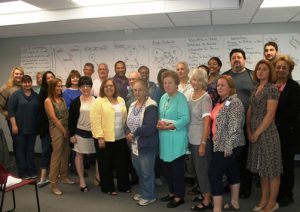 Be a mediator!  One of the best ways to enter the Alternative Dispute Resolution (ADR) field is to get training and experience as a  community mediator who volunteers their time. The Dispute Resolution Center offers basic mediation training with trainers certified by the Office of ADR Programs, a supervised apprenticeship and the opportunity to provide service both in and out of the court system.  Lectures, role plays, case studies, and demonstrations are designed to instill the skills needed by successful mediators. Continuing Legal Education (CLE) credits are often available for attorneys.
Training Requirements
Completion of an approved Basic Mediation Training Course

Completion of the Apprenticeship Program

Observing a minimum of one mediation session

Co-mediating a minimum of five mediation sessions with an experienced mediator

Holding a debriefing session with a Center staff member or mentor after each observation and co-mediation session
Mediator Active Status Requirements
Be available to mediate a minimum of twice a month;

Mediate a minimum of three cases over a one-year period;

Take a minimum of six hours of continuing education offered by DRC or a pre-approved provider.

At the Agency Director's discretion, these requirements may be increased, if necessary, for the candidate to develop the requisite skills needed to mediate proficiently.
Find out more today!  Call 845-DRC-8771 ext 5001 or click here.
---